Baur au Lac
– ☆ ☆ ☆ ☆ ☆ –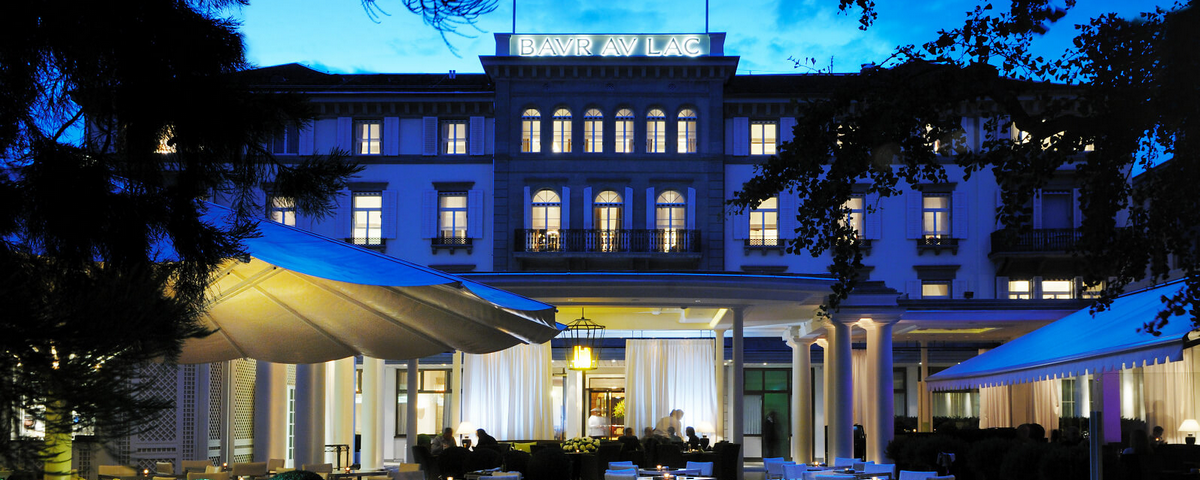 MICHELIN-STARRED CUISINE
At the Pavillon, one of Zurich's most celebrated restaurants, head chef Laurent Eperon offers modern interpretation of haute cuisine classics. Awarded 1 Michelin-Star and 18 GaultMillau points.
A UNIQUE LOCATION
In the heart of Zurich, Baur au Lac sits on its own private park with breathtaking views of the lake and the Alps. The famous shopping and business district Bahnhofstrasse, is just a stone's throw away from the hotel.
EXCEPTIONAL SERVICE
A positive mix of experienced and youthful staff allows us to combine continuity and tradition with a thoroughly modern outlook, a harmonious working environment and family-style teamwork.
The Zurich hotel with hundreds of years of tradition
With a dream view of the on-site park, there is a real traditional hotel close to the famous Paradeplatz: the Baur au Lac. It would be difficult to find a more beautiful place in Zurich which you can enjoy in more style thanks to the luxurious atmosphere of well-being, the exquisite catering and the incomparable service of our 5 star hotel.
Use our hotel in Zurich as your central starting point and discover Switzerland's cultural capital. Our famous concierge service has time for your wishes day and night and knows all of the interesting places in the city. From the rooms and suites, which all meet the highest possible requirements, through to the culinary art in our exquisite award-winning restaurant - Baur au Lac is without a doubt one of the best hotels in the world.
Be a guest in one of the best 5 star hotels in the world
The name Baur au Lac has stood for tradition, which is perfectly complemented by continuity and modern influences, for almost two hundred years. We rely on long-term employees who know our premises and our guests' requirements in detail. At the same time, we know that no company can survive without the spirit of the next generation. In Baur au Lac, you therefore find an exclusive world-class hotel which offers you an old-school hotel experience, but also does not allow you to miss out on any modern standards.
Be a guest in our luxurious 5 star hotel which is amongst "The Leading Hotels Of The World".
Baur au Lac looks forward to welcoming you to Zurich!
Concierge

For many generations, the Baur au Lac has been regarded as the leading address in Switzerland's biggest city for the world's most discerning clientele. The elegance and comfort of its rooms and suites, as well as its exceptional service, have shaped its renown. We urge you to take advantage of what we have to offer. And we urge you particularly to be indulged by our concierge team, guaranteeing that your visit will be more special than you could ever have imagined.
Excellent service around the clock
and around the world
The concierges at the Baur au Lac are at our guests' disposal before, during and after their stay. Our guests can be confident in having a trusted provider at their side capable of assisting–no matter where in the world the guest may be situated. The essence of being a Baur au Lac concierge is not to deal merely with the requests anyone could organise. Instead, through their network of relationships in Zurich, Switzerland and the world, the aim is to provide customized and discreet service that guests simply could not experience at any other hotel.
Les Clefs d'Or
professional association of the hotel concierges.
Jérémie Varry is chief concierge at the Baur au Lac and, since 1998, a member of Les Clefs d'Or. The Les Clefs d'Or organization – Union Internationale des Concierges d'Hotels -- has 4,500 members from more than 50 countries. To become a member, an applicant must have reached a minimum age and speak at least two or more foreign languages. Moreover, he or she must have worked at least five years in the lobby of a major hotel and be proposed by at least two members of the organization. A member of Les Clefs d'Or can be easily recognized by the crossed-keys pin worn on the jacket lapel.
Concierge - a vocation steeped in history
The word's origin traces back to the French term "Comte des Cierges", meaning "guardian of the candles." Historians believe that the Comte des Cierges – eventually "Concierge" – was responsible for snuffing out the candles in medieval castles at night and lighting them again at dusk. Thus, for many centuries, concierges have been occupied with the maintenance and representation of royal houses, palaces and castles.
From the beginning of hotel history, concierges have attended to guests' needs – from the simplest to the most complex. During the Middle Ages, the monarchs' concierges represented their Majesties by addressing all day-to-day royal concerns. Furthermore, they were the holders of the keys and watched over the entryways and doormen.
Nowadays, concierges can mainly be found in the luxury hotel industry. Their function is to provide helpful, intensive and personal interaction with hotel guests. The amount of the interaction is up to the guest: concierges never intrude. Their role is to serve and, as if by intuition, understand guests' precise needs, wishes, interests and characteristics and to organize their stay accordingly.
At first glance, a concierge might look like a distinguished front office employee. At the Baur au Lac, the concierges' domain stands to the right of the front desk. And although a concierge's tasks sometimes partly overlap with those of a front office employee, they invariably go far beyond. The concierge is a jack of all trades, up to the most standard requests and the most unusual challenges. From obtaining train reservations or the best theatre tickets, to an airport transfer, a restaurant suggestion, a romantic dinner on top of the "Üetliberg," an introduction to the perfect speciality store or even a private jet – the concierge is a trusted friend, committed to doing everything not only to simplify but also enhance the guest's stay. Like a true professional, a Baur au Lac concierge fulfills even the most unusual requests with utter confidence.
Baur au Lac Garage

More than a 110 years ago, when horsepower was still used in front of the carriage and not underneath the hood, the always pioneering Baur au Lac opened its own garage.
Since the opening of the hotel in 1844, the Baur au Lac has been a pioneer in many regards. By purchasing the garage in 1905, hotel owner Karl Kracht proved this spirit once again, this time in terms of motoring. Come by and benefit from this unique five-star service.
OUR GARAGE SERVICES
valeted refuel including level check
e-charging station
Car Wash inside CHF 35.00 / external CHF 35.00 (hand wash)
whole day parking CHF 45.00
repair works, tyre change, service
directing repair works CHF 180.00 / hour.
materials according to effort
OPENING HOURS
Monday to Friday, 7am to 8pm
Closed on public holidays
VIP Service

SEAMLESS SERVICE FROM ZURICH AIRPORT TO THE BAUR AU LAC AND BACK
Arriving calmly – In order to be sure our guests' arrival and/or departure is as comfortable as possible, we have entered an exclusive partnership with Zurich Airport and its VIP Service. Thanks to this partnership, it is possible to enhance our standard service in regards to comfort, discretion and time-management regardless of your airline or booking class.
Once your plane has landed, the BMW limousine-service of Zurich Airport along with a your personal VIP agent will bring you to immigrations and to the VIP Lounge. In the exclusive ambiance of the VIP Lounge, you will be able to relax and refresh yourself while our Baur au Lac Chauffeur collects your luggage. Our driver will then pick you up at the lounge and take you to the hotel.
The same conditions apply for transports from the hotel to the airport. You will be brought to Zurich Airport by our driver and will benefit from the VIP treatment. Service includes luggage service, priority at security- and passport check, access to the exclusive VIP lounge and limousine transfer directly to the airplane. You can also receive help with tax refund or purchases, if desired.
Fitness Club

WITH A BREATHTAKING VIEW
Make use of our fitness club on the top floor of the hotel with a breathtaking view over the park and the lake. Refresh and revitalize body and soul with the Baur au Lac's fitness training and beauty programs. Perched high above the rooftops of Zurich, the fitness club is a case study in advanced workout technology that meets the most demanding safety standards. You still have to do the sweating yourself, but a breathtaking view of the lake and the Alps provides ample reward.
PERSONAL FITNESS
Our experienced physiotherapist Ina Bach closely examines each person's strength, agility and muscle length – and then puts together personal training programs that are perfectly tailored to each individual's needs. Our concierge team will happily arrange individual personal training appointments for you. Opening hours Daily 6:30am to 10pm.