Grandhotel Hessischer Hof
– ☆ ☆ ☆ ☆ ☆ –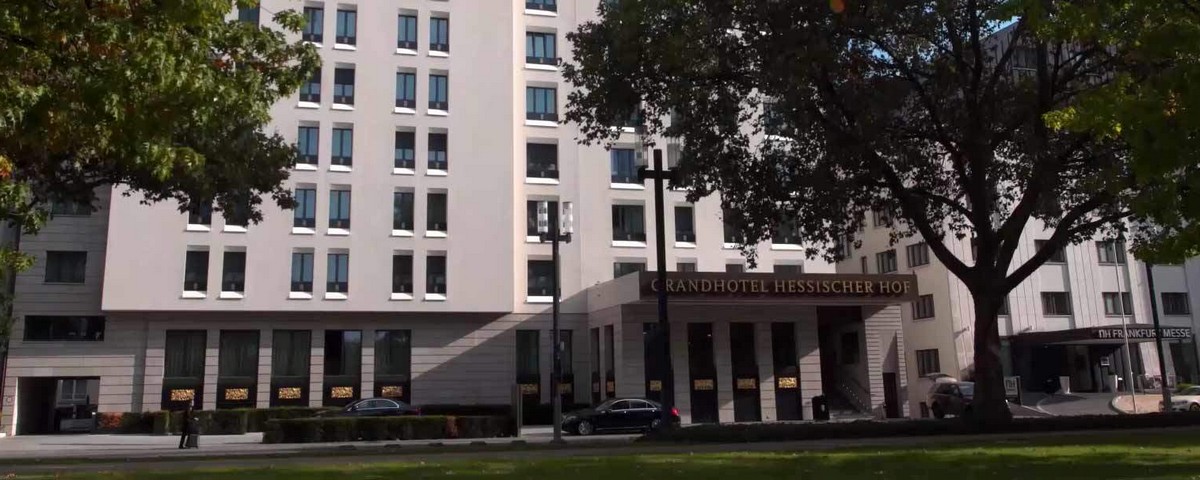 Mission & Vission
The Grandhotel Hessischer Hof lays claim to being the best hotel in Frankfurt am Main. We offer our guests a "home away from home that radiates hospitality, individuality and tranquility".
Therefore, it is important for us to always recruit the best qualified employees and to ensure they retain their enthusiastic commitment to our establishment in the long term. We encourage and support their development at the personal and professional level. Our daily actions are based on the fundamental values of fairness, tolerance, security, respect, honesty, quality, ambition, reliability and tradition.
Tradition plays an important role at our five-star hotel. The original city residence of Prince Wolfgang of Hesse was transformed into the Hotel Hessischer Hof with 35 rooms, which opened up in 1952. In the meantime, it has evolved into the magnificent Grandhotel Hessischer Hof – Frankfurt's leading luxury hotel.
The hotel has succeeded in achieving a harmonious amalgamation of modern comfort and a centuries old tradition. The stylishly integrated works of art from the collection of the Hessian House Foundation, imbue the Grandhotel with its special charm. Since 1928, the objective of the "Hessische Hausstiftung" has been to preserve and maintain the cultural assets of the family. The chairman of the supervisory board is Donatus Landgrave of Hesse.
Besides tradition, quality is an important element in the day-to-day operations of our five-star hotel Grandhotel Hessischer Hof. As a member of "The Leading Hotels of the World" our establishment offers an excellent quality of service which is maintained through regular practice and training courses by internal as well as external trainers and enhanced continuously.
However, it is our staff who interlink the pillars of tradition, service and quality. Their hospitality and expertise have made our hotel into the special establishment that we are proud of – THE GRANDHOTEL HESSISCHER HOF.
At a galance
5-star Luxury Hotel – DeHoGa and VDR certified Conference Hotel
GUEST ROOMS – AND SUITES
121 Guest rooms & Suites – 24 hrs Reception – 80 Parking spaces (EUR 3,20 per hour / Daily EUR 29)
1 Presidential Suite (180 sqm)
1 Grand Suite (83 sqm)
1 Family Suite (70 sqm)
6 Deluxe Suites (ca 60 sqm)
29 Executive Junior Suites (ca. 55 sqm)
21 Grand Superior Rooms (ca. 50 sqm)
51 Comfort Rooms (ca. 30 sqm)
13 Classic Rooms (ca. 20 sqm)
Check-in time from 3 p.m.
Departure time until 1 p.m.
CONFERENCE- AND BANQUETING ROOMS
11 extraordinary and prestigious meeting venues from 3 to 400 guests
Suitable for Board Meetings, Conferences, Seminars, Events, Gala-dinners, Weddings etc.
All function rooms have daylight, blackouts and are fully Air conditioned
Modern conference equipment available / 80 Parking spaces available
GASTRONOMY AT THE GRANDHOTEL HESSISCHER HOF
Restaurant Sèvres – upscale flair – open 7 days a week 40 seats
Monday to Friday
06.30 a.m. – 10.00 a.m. Champagne buffet breakfast
12.00 p.m. – 02.00 p.m. Business Lunch
06.30 p.m. – 10.00 p.m. Elegant dining / Sampling Menus
Saturday, Sunday and Public Holidays
07.00 a.m. – 11.00 a.m. Champagne buffet breakfast
12.00 p.m. – 02.00 p.m. Business Lunch
06.30 p.m. – 10.00 p.m. Elegant dining / Sampling Menus
Jimmy's Bar – Best Cocktailbar in town – open 7 days a week
Daily from 8 p.m. to 4 a.m.
including food and snacks
Live piano music starting at 10 p.m.
SPA & FITNESS
FINEST Medical, Fitness, Health
medical treatments, sauna & steam
6 a.m. – 10 p.m. open daily – appointments on request
Fitness and Health Club on 7th floor with roof terrace and views