Hotel Belvedere Grindelwald
– ☆ ☆ ☆ ☆ –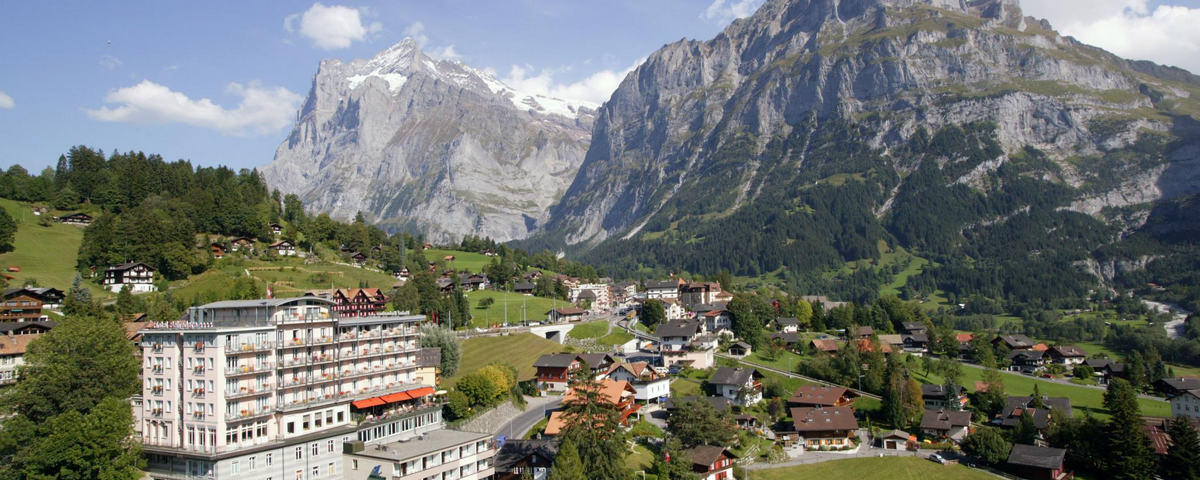 Experience the Jungfrau up close and personal
Plus there are endless possibilities for exciting excursions in the Jungfrau Region. Admire the majestic Bernese Alps from the Jungfraujoch, Schilthorn, Kleine Scheidegg, First or Männlichen. Or hike one of the world's best walking networks – in winter or summer. And in winter, enjoy three attractive winter sport regions for skiing, snowboarding and sledging.
Family-run and sustainable
Our hotel, which has been run by the family for three generations, is committed to sustainability. Our energy is generated in Swiss hydroelectric power stations and our heat in the Grindelwald wood-fired heating plant, both are CO2-neutral. Already we have been awarded the international «Travelife Gold» certificate for ecologically responsible hotels.
A warm welcome – we look forward to your visit!
Hotel Belvedere Grindelwald
Urs-B. Hauser, family & team
Grindelwald in Winter
Skiing, snowboarding, sledging, winter hiking and lots more in the Jungfrau Region
Skiing in the Jungfrau Region
Discover 213 kilometers of ski slopes in the 3 ski areas of Grindelwald-First, Kleine Scheidegg-Männlichen and Mürren-Schilthorn. With amazing views of the Eiger, Mönch and Jungfrau from all areas.
Discover our offers for your winter holiday in Grindelwald
Grindelwald - First
More than 60 kilometers of prepared ski slopes and 40 kilometers of hiking trails and sledge runs, plus a magnificent panorama of the north faces of the Bernese Alps are what makes Grindelwald-First so unique. The «White Elements» snow park is just as popular as the 30-limit ski slope, reserved specifically for slower skiers.
Grindelwald - First piste map
Kleine Scheidegg and Männlichen
The ski area with 110 kilometers of slopes and 30 kilometers of sledge runs is situated right at the foot of the Eiger, Mönch and Jungfrau. The world-famous Lauberhorn World Cup Downhill Race starts from here and finishes 4.2 kilometers further down at Wengen.
Kleine Scheidegg and Männlichen piste map
Ski school
The sun-kissed BodmiArena beginners' slope and beginners' lift are right in the middle of Grindelwald, offering ideal conditions for novices of all ages.
Information on the BodmiArena (PDF)
Cross country skiing
Grindelwald Grund boasts a small but excellent area for cross-country skiing, with 15 kilometers of tracks for all levels (classical/skating).
Grindelwald cross country trails (PDF)
Snowshoe trails
Fresh powder snow glistening in the sun, with peace and quiet all around: For those less willing to venture out into the countryside alone on snowshoes, there are a number of signposted snowshoe trails in Grindelwald.
Snowshoe touring in Grindelwald
Sledging in Grindelwald
The Jungfrau region offers a wide range of sledge runs, including the world's longest sledge run, the 15-kilometer «Big Pintenfritz» from Faulhorn to Grindelwald village. While Bussalp is regarded as the Mecca for sledging, you can also enjoy a large number of attractive sledge runs in the First, Kleine Scheidegg and Männlichen regions.
Sledge runs in Grindelwald
Winter hiking
100 kilometers of marked and prepared winter hiking trails are dotted throughout the Jungfrau region. Enjoy a unique perspective of the spectacular snowscapes at the foot of the imposing north face of the Eiger from the hiking trails.
Overview of winter hiking trails in Grindelwald
Eigerness – a Grindelwald original
The Eigerness brand was created to familiarise guests with the uniqueness and special characteristics of Grindelwald. The offers are divided into 4 categories: culinary, culture + tradition, activities and wellness.
Eigerness
Events in Grindelwald
Winter Kick-Off: 14-15 December 2018
The sun shines through the «Martin hole» in the Eiger: 13-16 January 2019
89th International Lauberhorn Race: 18-20 January 2019
37th World Snow Festival: 21-26 January 2019
24th Velogemel World Championship: 10 February 2019
22nd «Horischlittenrennen» (Horn Sledge Race): 2 March 2019
King of the First hill: 16 March 2019
The Winter Final - Treasure hunt in the snow: 29-30 March 2019
22nd SnowpenAir Concert on Kleine Scheidegg: 6 April 2019
To Grindelwald events calendar
Events at the Belvedere
Christmas Celebration with a visit of Father Christmas: 25 December
New Year's Eve party: 31 December
Weekly winter programme at the Belvedere
Monday: In the evening, visit to the kitchen with Florian Stadler and his crew
Tuesday: Play curling with Urs Hauser
Thursday: Sweet and dessert buffet
Friday: «Tartare Night»: Steak tartare, freshly prepared at your table by Urs Hauser
Saturday: Welcome aperitif with the Hauser family and Fondue night in the Spycher
Family vacations in Grindelwald

Children are very welcome at the Hotel Belvedere
At the Belvedere we offer the following services and facilities specially designed to make your children's vacation just as enjoyable as yours:
At the Hotel Belvedere we have lots of fun and entertainment in store for your children
Large games room with table tennis, table football, billiards, Nintendo Wii, Carambole and a play corner for toddlers
Various board games for the entire family
A special children's menu with various pictures to colour
Child-friendly mealtimes in the restaurant
King for a day
Is your child celebrating a birthday during your stay at the Belvedere? To make this a memorable occasion, we invite your child to sit on the Cocolino throne during meals in the restaurant on his or her birthday.
Our hotel is child-friendly, thanks to
Cots in the rooms
Baby intercoms
High-chairs in the Restaurant
Various family rooms for up to 9 people (2-room suites with separate children's bedroom and 2 bathrooms)