Explore Spa Studio
Located on the sixth floor of the hotel, the Explore Spa Studio is a blissful oasis of relaxation offering treatments and therapies based on renowned French Cinq Mondes beauty products. Open to both guests and members of the public who, in consultation with a beauty therapist, can choose from a range of offerings designed to aid skin rejuvenation and promote personal wellbeing.
Urban Oasis
A separate sauna and steam room plus an open terrace with sun loungers, overlooking Barcelona and the vibrent Boulevard of Las Ramblas; and a vitality bath guide guest to a complete relaxation. 
Special Deal |  Reserve your treatment before your arrival and get 10% off (only including treatments of min 50 min - pedicure & manicure excluded).
Package Spa + Lunch | Reserve your package with oriental massage (45 min.), access to the spa, lunch, glass of cava and Cinq Mondes amenities. 
Navigating your experience
Monday to Sunday from 10:00 to 21:00
To allow time for the discovery of Explore Spa Studio facilities, we encourage you to arrive 30 – 60 minutes prior to your first service.
To minimize distractions from the experience, we ask that you kindly turn off communication devices prior to entering Explore Spa Studio.
Reservations
To ensure that your preferred treatment or therapist is available, we invite you to schedule your appointments well in advance. Spontaneous bookings are always welcome, and will be accommodated based on availability.
All reservations from non hotel residents must be secured with a major credit card and a telephone number.
For reservations, please contact our Concierge at the Hub, in the lobby area.
Wet Areas
Explore Spa Studio invites hotel residents to use the wet area and terrace at no additional charge during its opening hours. Children under 16 years old need to be accompanied at all times and will not be granted entrance when not accompanied.
Late Arrival / Cancellation
24 hours of notice is required for changes or cancellations. Arriving late for a service may require us to shorten the length of your treatment, with full charges applied.
Attire
Upon entering, you will be given a robe to wear throughout your Explore Spa Studio experience. Before your treatment begins, you will be given the opportunity to disrobe and cover yourself in privacy. Throughout your treatment your body will be draped with linens, and will at no time be completely exposed.
To fully experience the mixed-gender Wet area, please bring a bathing suit. Towels will be provided to you upon reservation.
Rinse
A brief shower just before your massage or treatment washes off any salts, minerals or chemicals that could clog pores when mixed with oils or other treatments.
Dialogue 
Communication with your therapist should be a free and open dialogue. Prior to the start of your service, please tell your therapist the areas you would like to focus on, any areas to be avoided and if you feel any discomfort.
Treatments
Facial Treatments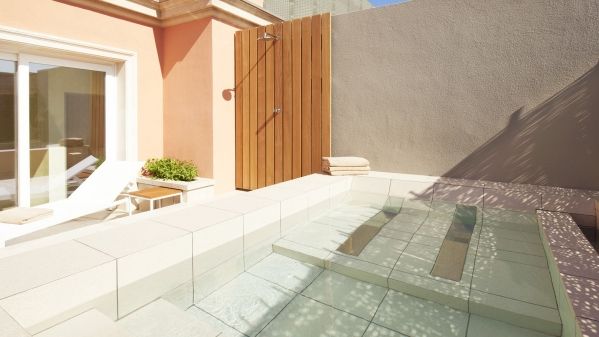 Limitless Facial
50 MINUTES €75.00 | SPG Points 7.500
A facial for all skin types to cleanse, hydrate and revitalize. The treatment also includes a back massage with the application of smooth hot stones to the solar plexus.
Rituel Aux Cinq Fleurs©
50 MINUTES €80.00 | SPG Points 7.875
A "purity and radiance" treatment based on an ancestral ritual combining the energy of five tropical flowers (gardenia, hibiscus, frangipani,ylang-ylang, lotus) to cleanse the skin. The treatment also includes a massage of the neck, trapezius muscles and face to recover a complexion that sparkles with freshness.
KO BI DO® 
Global anti-age "Fountain of Youth"
80 MINUTES €100.00 | SPG Points 10.000
Anti-aging treatment with three different types of massages following the Japanese ritual, "KoBI DO", to calm and relax. It consists of a natural lifting that effectively smoothes fine lines and enhances skin tone.
Eye Contour 
30 MINUTES €50 | SPG Points 5.250
The area around the eyes is the most delicate part of our face and is constantly subjected to movements such as smiling, winking and blinking. Separate care for this area is crucial for preventing or treating signs of ageing. This is a great option to add any of our facials.
Body Treatments
Discovery Massage
50 MINUTES €85.00   | SPG Points 9.000
80 MINUTES €120.00 | SPG Points 12.000
Exclusive massage created by Explore Spa Studiothat fuses three different therapies – Shiatsu,Thai and Swedish, to achieve a deep revitalized state.
Hot Stone Massage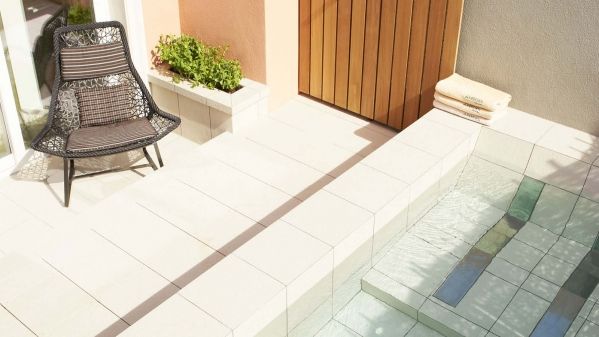 80 MINUTES €150.00 | SPG Points 15.000
This intensive treatment is designed to calm the mind, body and spirit. The heat generated from lava stones relaxes tension in the body caused by stress. Ideal for anyone suffering from muscular aches and pains.
Express Revitalizing Massage
30 MINUTES € 50.00 | SPG Points 5.250
A relaxing, deeply therapeutic decontracting massage, ideal for relaxing muscle tensions brought on by stress or vigorous activity.
Wrap with «Créme de Rassoul»©
30 MINUTES €45.00 | SPG Points 4.500
A purifying, reaffirming and autooxidising wrap with "Crème de Rassoul", traditional Moroccan recipe. It restores skin's brightness and firmness.
Scrub with «Savon Noir Beidi»©
30 MINUTES €45.00 | SPG Points 4.500
Scrub with purifying and cleansing Black Soap. It eliminates impurities in the skin through use of a special crepe glove and traditional "Savon Noir Beldi" following a North-African tradition.
Aromatic Exfoliation
30 MINUTES €45.00 | SPG Points 4.500
Taking inspiration from an ancestral Balinese ritual, this exfoliation uses an ancient exfoliating paste recipe, which combines with vigorous rubbing to refine and smoothen the body, and make the skin more radiant.
Ayurvedic Massage
60 MINUTES €110.00 | SPG Points 11.250
A toning and energizing massage that boosts circulation and metabolism. With the use of heated vanilla and sesame oil, it relaxes the muscles and targets areas of tension, restoring energy and vitality.
Oriental Massage
50 MINUTES €90.00 | SPG Points 9.000
A deeply relaxing and restorative massage, thanks to the use of smooth argan and sesame oil heated with cedar and cinnamon essence. Based on traditional North African ingredients.
Foot Massage
30 MINUTES €50 | SPG 5.250
Ideal for relaxing your body and mind. To drain all the pain and tension after a long day.
These treatments are only sold as a supplement to another treatment
Finishing Touches
Express Manicure 
40 MINUTES €49.00 | SPG Points 5.250
Express Pedicure
50 MINUTES €59.00 | SPG Points 6.000
Cleans nails and removes polish. Hydrates with almond oil and aloe vera cream, and finishes by polishing nails with a choice of colours.
Explore Manicure
60 MINUTES €59.00 | SPG Points 6.000
EXPLORE PEDICURE
60 MINUTES €69.00 | SPG Points 6.750
A complete hand or feet treatment with exfoliation and deep conditioning treatment to hydrate and smoothen the skin.
Manicure for Kids
30 MINUTES €45.00 | SPG Points 4.500
Supplements:
Remove shellac 10€
French manicure or pedicure 10€
Fitness Centre 
Located on the -1 floor of the hotel, the Fitness Centre is an awaking spot to energise your personal self and wellbeing. Move to the rhythm of a stimulating new wave of music curated by Nouvelle Vague and enjoy the access to your exciting routine 24h a day.
Technology
At Le Méridien Barcelona you will enjoy the gym with the latest Technogym technology. A complete range of equipment for you to be always fit.
Treadmills
Elliptical Trainers
Exercise bikes
Steps
Free weights
Kinect Devices
Personal Trainer
Personal Trainer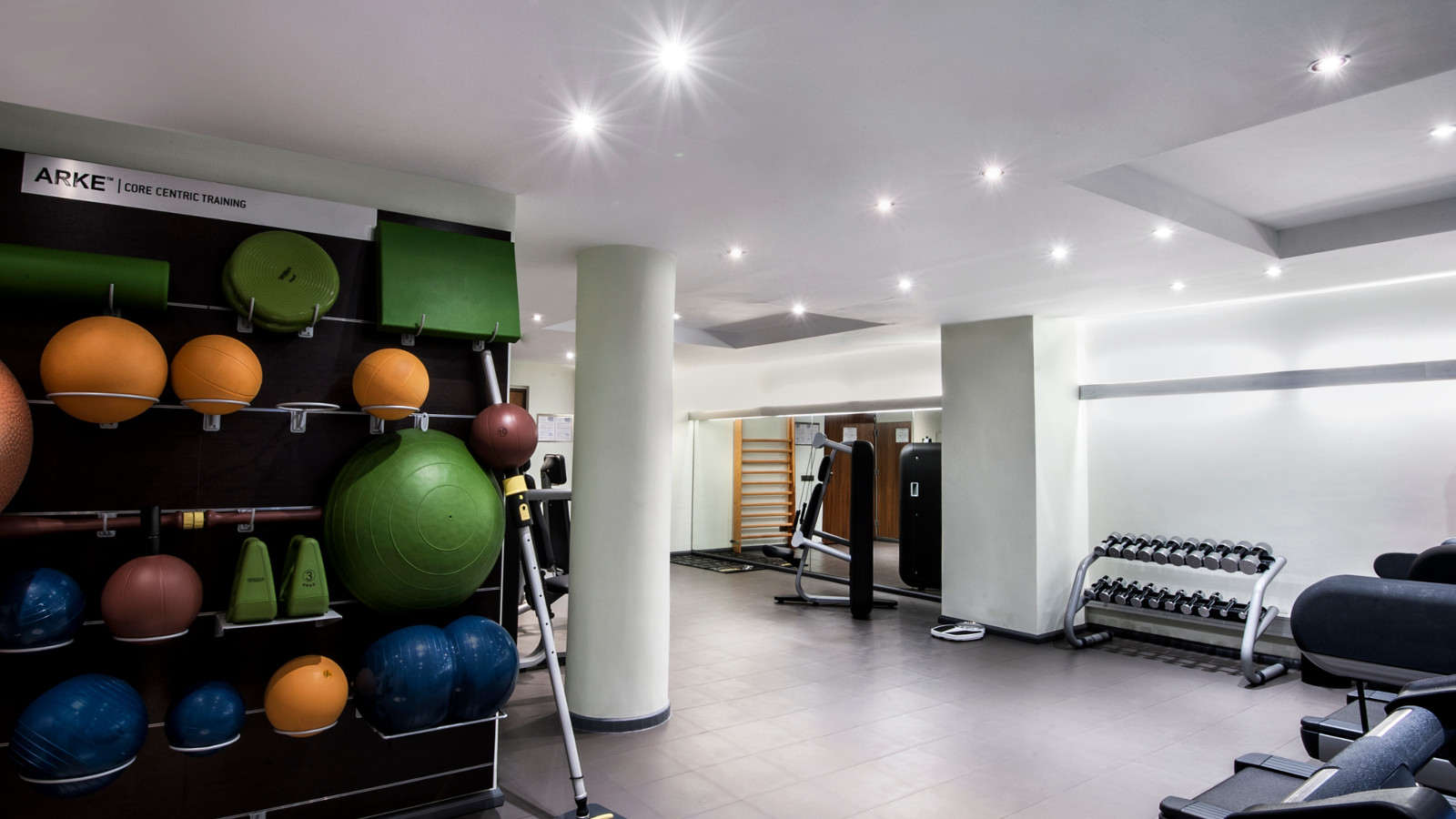 Elevate your passion for being healthy, fit and active with the Personal Trainer, Nutritionist and Physiotherapist.
Personal Training
Yoga
Pilates
Running
Dances and more
Price per hour | € 60
Price Duo | € 100