Hotel Patria Palace
– ☆ ☆ ☆ ☆ ☆ –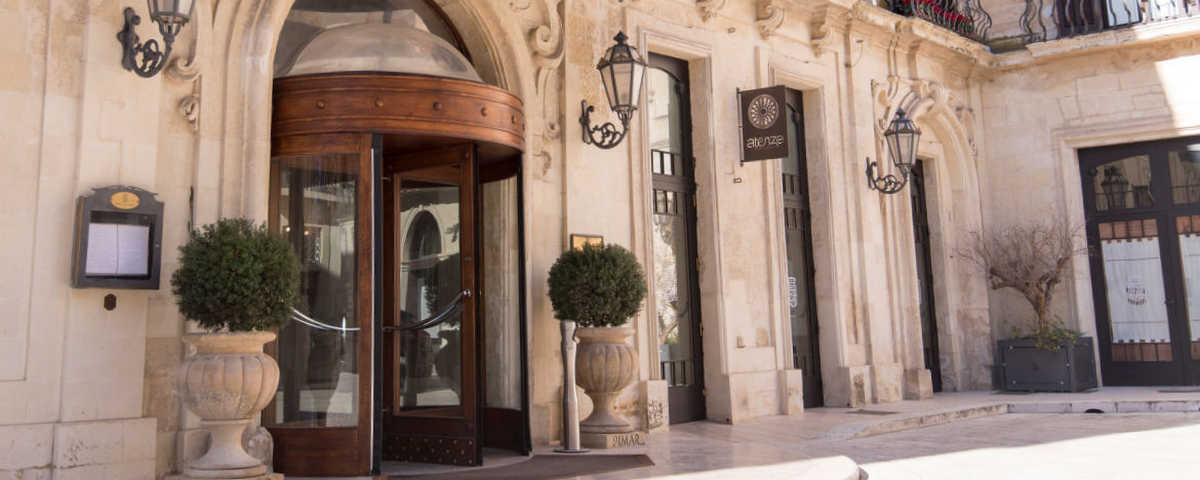 A 18th Century Building, Austere and Majestic
The hotel is located in a 18 th century building, austere and linear, abode of the noble family D'Anna-Petrarolo. The bulding has been designed by the famous architect Mauro Manieri who designed also the church of Sant'Irene and the church of Carmine, both in Lecce. After many vicissitudes, it was donated to a religious order and, for many years, has been an important orphanage of the Salento peninsula.
A Long Hospitality History
In 1850 the building was purchased by the family of the engineer Giacomo Gridi who opened the first inn for wanderers.
We are in the Risorgimental Period which would lead to the birth of Italy and the Inn acquires, thanks to its owners' will, the name of Patria.
The Patria Palace Hotel has always been a landmark of the city and the whole Puglia, rendezvous of personalities and politicians of the period.
A Renewed Magnificence
The recent history tells about a complete restyling in 1997, made by artists and artisans who have made the hotel modern and comfortable, but leaving all its charm and atmosphere untouched.
Luxury Service
The Patria Palace Hotel offers to its guest a luxury service, looking after every detail and trying to satisfy all the necessities in a professional and careful way.
Your stay will be a memorable experience.
PRIVATE GARAGE WITH VALET SERVICE
A valet service to the private parking gives clients the chance to reach the hotel in the city centre with their own car and deliver it to our dedicated staff with serenity and safety.
SKY
All the rooms have Sky Sat Tv, with a choice of over 100 free channels.
FREE WI-FI
Free wi-fi high speed connection in all the rooms, common areas and MICE spaces.
AIRPORT SHUTTLE
A comfortable transfer service at special conditions, on request, to and from the International Airport of Brindisi.
ROOM SERVICE
Breakfast, lunch e dinner can be comfortably served in your room.
CONCIERGE
Our staff will be glad to assist you for any need 24 hours.
LAUNDRY AND IRONING
To be always perfect a laundry and ironing service on request.
SAFE
All rooms are equipped with a safe, the are also safes at reception for your most precious belongings.