A PIECE OF HISTORY RIGHT BY LAKE FUSCHL
In such an exquisite spot of land as the spit that stretches into Lake Fuschl, the archbishop's seat of nearby Salzburg was not hidden for long. In 1450, Schloss Fuschl was built there as a country seat where the archbishops hunted and drew strength for their official duties from the vibrant nature.
Around 500 years later, the grand residence became the setting for a film about a queen: in the 1950s, Schloss Fuschl doubled as Possenhofen, the castle in which the future Queen of Austria was born. Here, Romy Schneider, aka Sissi in the film, spent her happy early years with her "Papili".
Even today, according to Condé Nast Traveler, Schloss Fuschl A Luxury Collection Resort & Spa is now one of the 25 best resorts in Europe, a place where visitors can be happy. However, unlike before, now anyone can visit this refuge for relaxation.
Here you can find the chronicle
KEEP GREEN
TOWARDS A SUSTAINABLE FUTURE
A wonderful nature sanctuary consisting of straw meadows, moors and the crystal-clear Lake Fuschl surrounds the Schloss
Fuschl Resort. Environmental protection and sustainability play an important role – HOW and WHAT are becoming
increasingly important. This applies both to the selection of foods but also to how buildings are run.
Big events and conferences require considerable amounts of resources produce emissions and, as a consequence, cause harm to our environment. But that isn't the way it has to be. Schloss Fuschl Resort with its two hotels, Schloss Fuschl Resort & SPA and Sheraton Fuschlsee-Salzburg Hotel Jagdhof, incorporates sustainable approaches to eco-friendliness and sustainability from the start to finish of the process. We invite you to walk this GREEN path together with us – enhancing the positive image of your event in the process.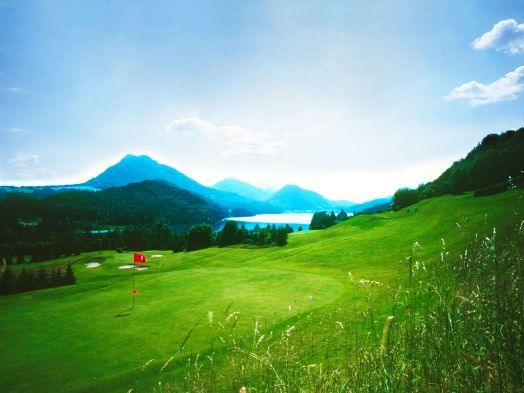 Environmentally friendly biomass power plant for heating and warm water fired by CO2-neutral pellets from the region at both hotels. Heat insulation at both buildings reflects the very latest standards.
Air-conditioning at Schloss Fuschl makes use of the pure, crystal-clear water of the Lake Fuschl, which is pumped up from a depth of 70 meters at a temperature of 3 degrees Celsius and, once it has been used, is returned to the lake at 10 degrees.
Eco-friendly ventilation control systems in the guest rooms of Schloss Fuschl.
Energy-saving LED lighting, spotlights and bulbs in both hotels.
Low-current electricity system resulting in energy savings of 10 %.
Kitchens are equipped with energy-saving induction stoves.
Around 70 % of food is obtained directly from the immediate region (fish from our own Castle Fishery).
Low-energy electric golf carts to transport guests between the two hotels.
E-recharging station at Sheraton Fuschlsee-Salzburg (free to hotel guests).
"Make A Green Choice" program at Sheraton Fuschlsee-Salzburg: If guests decide to forego daily room cleaning, they receive as a thank-you a coupon redeemable at the restaurant/bar or 500 SPG* points.
Our team is always there to assist, from making you that initial offer until the conclusion of the event itself.
We look forward to receiving your inquiry at event@schlossfuschl.com.
A DOG'S CODE OF CONDUCT
Dog Hotel in Austria
Dear Guests,
Your dog is more than welcome here at Schloss Fuschl Resort & SPA.
To make the stay of your dog as comfortable as possible you will find 1 dog towel, 1 sheet, 1 bowl, 1 treat, and 1 "Pets Checked In"- sign placed in your room.
€ 25,- will be charged per dog and night.
Dogs must be well trained and kept on a leash in all public areas of the hotel without any exception. Outside, you will find waste bins and easy to use plastic bags for your dog's droppings. Please make sure to use them well.
Our concierge will be happy to organise a dog-sitter for you upon request. Please give us 12 hours notice so we can find the perfect sitter for your dog.
Dogs are not permitted in the following areas:
The Schloss Restaurant, the front area of the Lakeside Terrace, the Prince Charles Terrace, the Jetty, and the SPA.
These rules apply to dogs of all sizes – even though they are carried in a bag.
Dog are permitted in the following areas:
The Lobby, the Schloss Bar, the back area of the Lakeside Terrace, the Sissi Terrace, and Diana Terrace. Further, we have two tables set up at the restaurant area of the Jetty. These two tables are subject to no reservation. First come, first serve. We may not allow any exceptions.
If your dog stays in your room without supervision, please hang the "Pets Checked In"- sign on your door to inform our staff to not enter the room.
Further, please be informed we are offering a towel and a sheet to avoid your dog lying around on upholstered furniture or beds. Nevertheless, if your dog causes a little accident please inform our housekeeping so we can take care of cleaning it. Extra charges may apply. As a dog owner, you are responsible for any damages to hotel property or guests and any disturbances caused by your dog.
We wish you and your dog a pleasant stay, and trust you will enjoy the resort and environment.