Grand Hotel Les Trois Rois
– ☆ ☆ ☆ ☆ ☆ –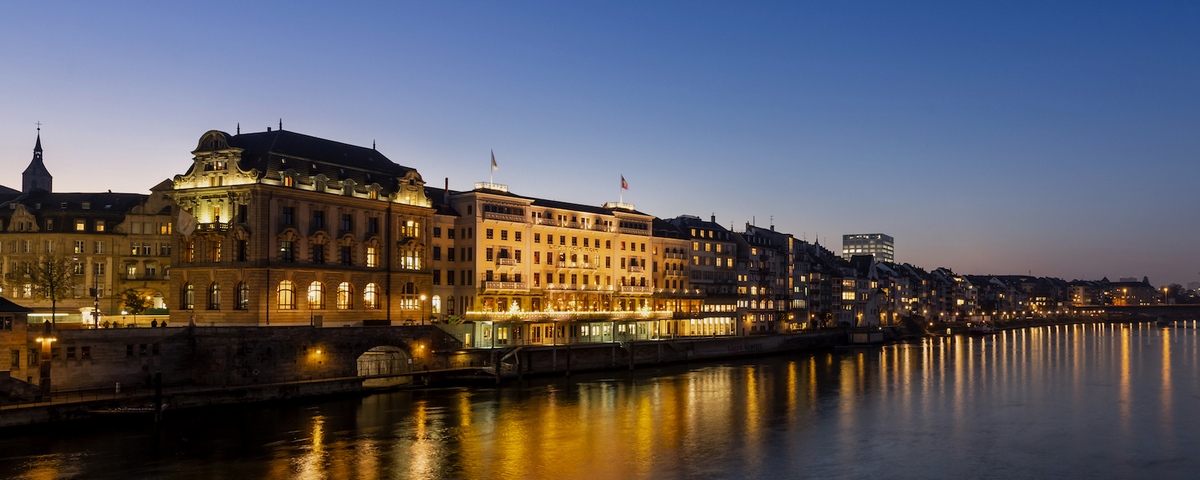 The legend lives on
One of the oldest city hotels in Europe – founded in 1681 as an inn for gentlemen, rebuilt in 1844 as a Grand Hotel – receives guests from all over the world. Such a tradition demands commitment – which we live out fully every day. Learn more about the history and people who are part of this tradition: Experience the living past.
A grand hotel, a proud past
Man has always been a traveller. Hospitality characterises our culture. So it is no wonder that it is in inns and hotels in particular that history lives on. The guestbook of the Grand Hotel Les Trois Rois reads like a who's who of world history. Empress Michiko of Japan, James Joyce and Pablo Picasso: were all guests for a while at our hotel.
Awards
"Prix Villégiature Awards" best Hotel city terrace in Europe
Cheval Blanc by Peter Knogl, 3 stars in the Michelin Guide
Brasserie Les Trois Rois, 14 GaultMillau points
Luxury Lifestyle Magazine Readers' Travel Awards Best Hotel in Europe
Hospitality is our vocation
Our employees, from more than 20 different countries are always here for you – attentively offering a first-class service with devotion and great attention to detail.
Tanja Wegmann, General Manager
Tanja Wegmann boasts a wealth of management experience in the international hospitality business and the luxury goods sector. After spells in Switzerland, Europe and Asia she worked for the Grand Hotel Les Trois Rois in Basel once before, from 2005 to 2009, initially as Resident Manager and, from March 2007 to April 2009, as General Manager. During that time she was instrumental in promoting the Basel establishment of long standing to the top flight of hotels in the Swiss hotel industry, following its refurbishment in 2006.
Fleurs de Rois
Floral magic in the heart of Basel. The Grand Hotel Les Trois Rois is being enriched with yet another fine jewel. Join us on a fascinating and sensual journey into a world of flowers at the Fleurs des Rois. Allow yourself to be enchanted and inspired by the sheer beauty, elegance and blaze of colours. We present our creations subtly and with skilled craftsmanship and fulfil your individual wishes with great dedication too. As well as our majestic classics, we have seasonal creations just waiting to be discovered by you. They would form a splendid backdrop to your daily life or for a special occasion.