About our Location
THE LEE BATHS, 1934-1986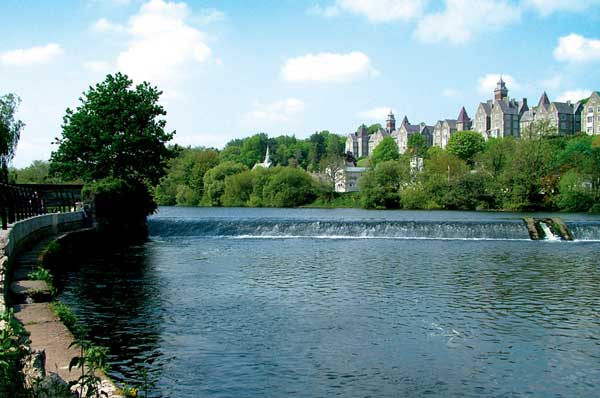 The Kingsley is located in an area steeped in local history, with stunning views of the passing River Lee and nearby walkway. The Lee Baths, operational from 1934 until 1986, were popular open air swimming pools that provided much entertainment and leisure for the citizens of Cork. The steps to the old baths are just a short distance from the site of The Kingsley, a wonderful historical connection which we have honoured throughout the hotel. 
UNIVERSITY COLLEGE CORK
The Kingsley is strategically located by UCC, one of Europe's most esteemed universities. Home to beautiful works of art, stunning architecture and well-cultivated gardens, University College Cork is a must-see for anyone visiting the city. The Deane-Woodward Suite at The Kingsley has been named in honour of Thomas Deane and Benjamin Woodward, two Cork based architects who designed the beautiful Main Quadrangle building, among others. Mary Ryan, UCC's first female professor, is also honoured in the hotel's Ryan Suite.
COUNTY HALL
Built in 1968, Cork's County Hall is located just across from The Kingsley and is the hub of Cork's civil services.
Reception
Guests at The Kingsley are offered an extensive range of guest services and facilities including a swimming pool, spa, gymnasium, parking business services as well as advice on exploring Cork Ciy and its surrounding areas. 
The Kingsley offers spacious and inviting accommodation, designed to offer guests the best in four star hotel accommodation in Cork. Boasting a range of beautifully appointed guestrooms, contact reception to enquire about room upgrades.
CHECKING IN & OUT
Check-in time: 2.00pm   Check-out time: 12 noon. 
Concierge
The Kingsley Concierge is available for guests 24hrs a day and is contactable via reception. On hand to offer ideas and suggestions for places to visits, attractions in the area and things to do, the Concierge can also arrange transportation to and from the airport or train station to our Cork hotel. Upon arrival and departure to The Kingsley, the Concierge will also ensure that your luggage is safely transferred and stored. 
To contact the Concierge, please call +353 (0)21 480 0500.
Parking
Complimentary underground and overground parking available for Residents of The Kingsley. For further information regarding parking, please contact reception on +353 (0)21 480 0500
Contact
The Kingsley, Victoria Cross.  Cork   T12 P680
Tel: +353 21 480 0500
Email: info@thekingsley.ie
CONNECT WITH US
Join us, follow us, like us and stay connected to your favourite hotel here.
Like what you've seen at The Kingsley? Then follow us on Twitter, like us on Facebook or follow us on Instagram and you'll never miss an update, an offer or an exciting event announcement again!
If you would like to contact The Kingsley with any queries, please fill in the form below and we will be delighted to answer your questions.